From the first trial on H.M.S. Salisbury to advancing towards a digital trials future…
Each year, the global health community celebrates International Clinical Trials Day on May 20, the anniversary of James Lind's famous scurvy experiment in 1747 on H.M.S. Salisbury. Lind's discovery–that sufferers of the disease recovered faster if they included citrus fruits in their diet–is considered one of the earliest examples of a successful controlled clinical trial.
Today's clinical studies benefit from access to advanced technology, vast volumes of data, and expertise that spans therapy areas and regions. Yet, the overall objective is consistent with Lind's study 275 years ago: getting innovative, tested, and safe treatments to those who need them most.
Given the scale of the ambition, it's easy to overlook just how quickly change is happening in the clinical research sector. The advent of paperless trials is a good example. The first study to be conducted using electronic data capture (EDC) took place in the 1970s; by 2012, clinical trials had come to rely on EDC, and paper-based trials had gone from default to exception. Moving to EDC has significantly improved the oversight and accuracy of clinical data management. Here are a few other areas where advancements are simplifying studies and shaping the future of clinical trials.
An Industry United to Accelerate Innovation
The unprecedented speed of the COVID-19 vaccine trials has also reset expectations of study lifecycles. It took just 11 months for the first vaccines to be granted emergency authorization, beating the previous record from 1967, when the mumps vaccine was developed within four years.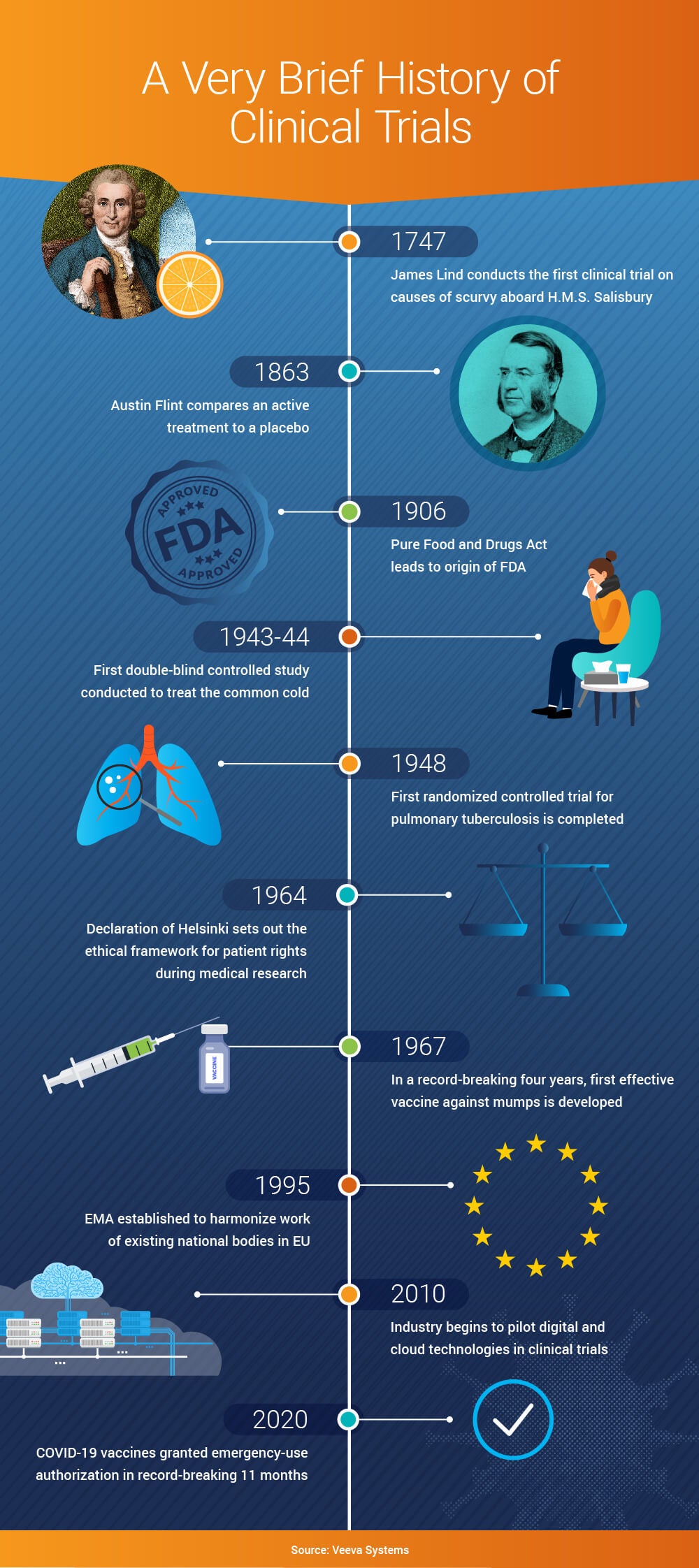 Outside of COVID research, other concepts such as platform, bucket, and umbrella studies continue to drive new collaborations across our industry, including with regulators. The shared goal is to reduce the time and cost of providing life-saving treatments to patients. One great example is the I-SPY 2 research projects attempting to re-engineer Phase II breast cancer trials by aligning personalized medicine with adaptive trials.
Another area of significant progress is in executing digital trials where in just ten years, technology has made studies more patient-centric. The first, widely discussed virtual trial took place in 2011, allowing volunteers to participate regardless of their proximity to sites. This has evolved to enable decentralized trials, helping patients gain access to treatments and making it easier to participate in a study while allowing study teams to capture data remotely.
Looking ahead, we hope to see an ambitious standard adopted industry-wide for decentralized trials in the coming years. Our aspiration is to execute trials according to the patient's wishes, from one day to the next. Data collection will become distributed, but trial data will continue to be aggregated and harmonized on a central platform for effective oversight and management.
For patients, studies should start to feel like part of everyday life so that data is collected and shared seamlessly from wearables or patient-facing applications. To make this a reality, the seamless integration of technology is becoming a priority across the industry. The FDA made progress in this area in 2018 when it released the MyStudies app, allowing patient data to be linked to traditional clinical trials, real-world studies, observation studies, and registries.
The COVID-era further underscored that patients need ways to contribute clinical trial data quickly, and the industry needs to streamline processes for accelerated drug development. We will soon see the focus for sponsors and CROs shift from integrating technology to empowering patients to easily share outcomes during a study without navigating through a myriad of applications and site portals.
Laying the Foundation for the Future of Connected Digital Trials
There are many reasons to be optimistic about the next era of clinical trials and the milestones we will achieve in the years ahead. Now is the time to lay the foundations for complete and concurrent trial data to speed innovations. As clinical trials evolve and become more complex and dynamic, they will require flexible protocol design, modern data management, and patient-centric technologies that can support decisions in close to real-time.
Despite Lind's discovery, it took 42 years for the Admiralty to make lemon juice compulsory on ships. The industry is now making progress much faster, supported by technology. Companies are committing to a digital trials future for seamless information sharing across sponsors, CROs, research sites, and patients. This accelerates trial execution, improves information sharing, and speeds the delivery of innovative medicines and treatments to patients in need.
We've seen what a united industry can do to accelerate new treatments in the face of great obstacles. With digital solutions, patients can be assured of trials that deliver safe medicines to improve health outcomes at a pace we could not have imagined in past decades.
___
This post was originally published on the Veeva Systems blog.